Video Wall Processor with IP Streaming Capabilities
The innovative Galileo Display Processor is a powerful and economical video wall system with remote desktop capabilities designed around a PC-based architecture. This video wall processor adds the benefits of PC-based systems, such as IP inputs and the ability to run applications natively, as well as 24/7 reliability and real-time performance.
Encode IP stream of entire wall or any region of interest
IP-enabled, PC-based processor with real-time throughput
Up to 56 inputs and 64 displays
Overlap for edge-blenders and bezel compensation
Automatic Zio encoder stream discovery
IP stream decoding up to 4K / UHD
HDCP support
Powerful remote desktop technology
Scripting interface for system control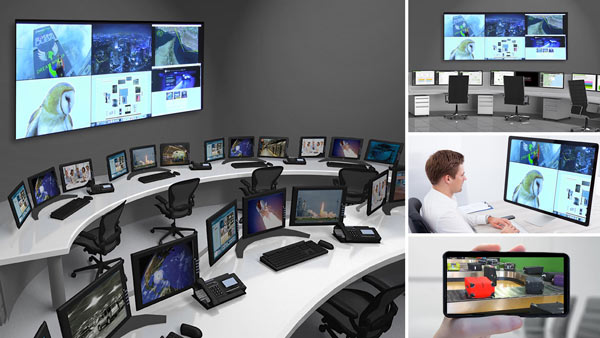 Galileo Encoding Provides Any Content Anywhere Capability
The new GO IP4K-E input/output card for the Galileo system allows the user to select any content to be encoded as an IP stream for transmission across the network. This allows operators to push content to anyone, anywhere in the world.
Overview
The video wall system supports a full range of input and output types (IP, analog, DVI/HDMI®, 3G/HD-SDI).
Optimized components enable the Galileo video wall system to deliver real-time throughput and superb image quality, unlike other PC-based systems that can drop frames or cause image tearing. The processor's solid state drive and dual-redundant power supplies add an extra level of reliability. This IP-enabled video wall processor supports H.264 IP decodes for motion video. This PC-based video wall processor can also deliver HDCP protected content.
The video wall system is easy to set up and control. The Galileo processor's advanced GUI allows users to "drag and drop" inputs and applications, such as VMS, SCADA and videoconferencing, to the video wall. A convenient tablet interface is also available. In addition, an API allows operators to monitor remote alarms and create advanced scripts to recall layouts and control third-party equipment.
The Galileo processor is ideal for a range of video wall system applications including mission-critical operations centers, command centers and control rooms, as well as boardroom video walls, corporate lobby displays, and large-scale digital signage. Combining enhanced reliability with the flexibility of a PC system, the new IP-enabled Galileo display processor is a PC video wall done right.
Specifications
All Models
Input/Output
Inputs
DVI: up to 1920x1200 @ 60 Hz, 2560x1600 @ 30 Hz
HDMI® & DisplayPort: up to 4096x2160 @ 60 Hz, up to 10-bit per component
SDI: up to 12G / 4096x2160 @ 60 Hz
S-Video: NTSC/PAL/SECAM
Composite: NTSC/PAL/SECAM
IP: up to 3840x2160 @ 60 Hz H.264

Outputs
DVI: up to 2048x1152 @ 60 Hz, 2560x1600 @ 30 Hz
HDMI® & DisplayPort: up to 4096x2160 @ 60 Hz
IP: up to 3840x2160 @ 60 Hz
** Number of input and output channels depends on chassis size and customer configuration.


Model: GO 18
Output Number
8 max
Processor
Memory
16 GB DDR4 2666 MHz
Hard Disk
256 GB SSD (No RAID option)
Control
Network
1x Ethernet TCP/IP 10/100/1000 Base-T
Physical
Size (H x W x D)
6.5 x 17.3 x 18.2 inches (4RU)
165 x 440 x 460 mm
Weight
27 lbs / 12 kg
Power
100-240 VAC; 50/60 Hz
690 W single
Environmental
Operating Temp
+50 to +95 °F (+10 to +35 °C)
Storage Temp
+14 to +140 °F (-10 to +60 °C)
Operating Humidity
10% to 80% non-condensing
Model: GO 18-A
Output Number
8 max
Processor
Memory
16 GB DDR4 2666 MHz
Hard Disk
256 GB SSD (No RAID option)
Control
Network
1x Ethernet TCP/IP 10/100/1000 Base-T
Physical
Size (H x W x D)
14.6 x 6.89 x 16.8 inches (Tower)
376 x 175 x 427 mm
Weight
32 lbs / 14.5 kg
Power
100-240 VAC; 50/60 Hz
625 W single
Environmental
Operating Temp
+50 to +95 °F (+10 to +35 °C)
Storage Temp
+14 to +140 °F (-10 to +60 °C)
Operating Humidity
10% to 80% non-condensing
Model: GO 24
Output Number
16 max
Processor
Memory
32 GB DDR4 3200 MHz
Hard Disk
256 GB SSD; RAID option
Control
Network
1x Ethernet TCP/IP 10/100/1000 Base-T
Physical
Size (H x W x D)
6.5 x 17.3 x 18.1 inches (4RU)
165 x 440 x 460 mm
Weight
29 lbs / 13 kg
Power
100-240 VAC; 50/60 Hz
1000 W single
Environmental
Operating Temp
+50 to +95 °F (+10 to +35 °C)
Storage Temp
+14 to +140 °F (-10 to +60 °C)
Operating Humidity
10% to 80% non-condensing
Model: GO 28
Output Number
16 max
Processor
Memory
32 GB DDR4 2666 MHz
Hard Disk
240 GB SSD; RAID option
Control
Network
2x Ethernet TCP/IP
10/100/1000Base-T
Physical
Size (H x W x D)
7.0 x 19.0 x 21.5 inches (4RU)
177 x 483 x 546 mm
Weight
40 lbs / 18 kg
Power
100-240 VAC; 50/60 Hz
850 W single
Environmental
Operating Temp
+32 to +104 °F (0 to +40 °C)
Storage Temp
-4 to +176 °F (-20 to +80 °C)
Operating Humidity
20% to 80% non-condensing
Model: GO 28-RP
Output Number
16 max
Processor
Memory
32 GB DDR4 2666 MHz
Hard Disk
240 GB SSD; RAID option
Control
Network
2x Ethernet TCP/IP
10/100/1000Base-T
Physical
Size (H x W x D)
7.0 x 19.0 x 21.5 inches (4RU)
177 x 483 x 546 mm
Weight
40 lbs / 18 kg
Power
100-240 VAC; 50/60 Hz
1200 W, 1+1 redundant, hot-swappable
Environmental
Operating Temp
+32 to +104 °F (0 to +40 °C)
Storage Temp
-4 to +176 °F (-20 to +80 °C)
Operating Humidity
20% to 80% non-condensing
Model: GO 40-A
Output Number
16 max
Processor
Memory
128 GB DDR4 3200 MHz
Hard Disk
1 TB NVMe SSD; RAID option
Control
Network
2x Ethernet TCP/IP
10/100/1000Base-T
Physical
Size (H x W x D)
17.2 x 7.0 x 29.0 inches (4RU)
437 x 178 x 737 mm
Weight
65 lbs / 29.7 kg
Power
115-230 VAC; 50/60 Hz
2000 W, 2+2 redundant, hot swappable
Environmental
Operating Temp
+50 to +95 °F (+10 to +35 °C)
Storage Temp
-4 to +140 °F (-20 to +60 °C)
Operating Humidity
9% to 90% non-condensing
Model: GO 40-B
Output Number
16 max
Processor
Memory
128 GB DDR4 3200 MHz
Hard Disk
1 TB NVMe SSD; RAID option
Control
Network
2x Ethernet TCP/IP
10G Base-T
Physical
Size (H x W x D)
17.1 x 6.9 x 26.0 inches (4RU)
434 x 175 x 660 mm
Weight
77 lbs / 35 kg
Power
115-230 VAC; 50/60 Hz
2000 W, 1+1 dual redundant
Environmental
Operating Temp
+32 to +85 °F (0 to +30 °C)
Storage Temp
-4 to +140 °F (-20 to +60 °C)
Operating Humidity
< 95% non-condensing
Model: GO 44
Output Number
24 max
Processor
Memory
32 GB DDR4 3200 MHz
Hard Disk
2x 240 GB SSD; RAID option
Control
Network
2x Ethernet TCP/IP
10/100/1000Base-T
Physical
Size (H x W x D)
6.9 x 19.0 x 19.7 inches (4RU)
175 x 482 x 500 mm
Weight
55 lbs / 25 kg
Power
115-230 VAC; 50/60 Hz
800 W, 1+1 redundant, hot swappable
Environmental
Operating Temp
+32 to +95 °F (0 to +35 °C)
Storage Temp
-4 to +158 °F (-20 to +70 °C)
Operating Humidity
5% to 90% non-condensing
Model: GO 56-A
Output Number
16 max
Processor
Memory
96 GB DDR4 2933 MHz
Hard Disk
1TB SSD; RAID option
Control
Network
2x Ethernet TCP/IP
10/100/1000Base-T
Physical
Size (H x W x D)
7.0 x 17.2 x 32.1 inches (4RU)
178 x 437 x 815 mm
Weight
65 lbs / 29.7 kg
Power
115-230 VAC; 50/60 Hz
2000 W max, 2+2 redundant, hot swappable
Environmental
Operating Temp
+50 to +95 °F (+10 to +35 °C)
Storage Temp
-4 to +140 °F (-20 to +60 °C)
Operating Humidity
10% to 85% non-condensing
Model: GO 80
Output Number
16 max (using QuadPlex, up to 64)
Processor
Memory
96 GB DDR4 2933 MHz
Hard Disk
1 TB SSD; RAID option
Control
Network
2x Ethernet TCP/IP
10/100/1000Base-T
Physical
Size (H x W x D)
7.0 x 17.2 x 32.1 inches (4RU)
178 x 437 x 815 mm
Weight
65 lbs / 29.7 kg
Power
115-230 VAC; 50/60 Hz
2000 W max, 2+2 redundant, hot swappable
Environmental
Operating Temp
+50 to +95 °F (+10 to +35 °C)
Storage Temp
-4 to +140 °F (-20 to +60 °C)
Operating Humidity
10% to 85% non-condensing