U.S. Navy Aircraft Carrier Fleet Deploys RGB Spectrum's Multi-Image Processors and Codecs
The U.S. Navy's Integrated Launch And Recovery Television Surveillance System (ILARTS) provides the Landing Signal Operators aircraft lineup data—glide-slope information—to support aircraft recoveries. Likewise, ILARTS provides other key activities on the ship situational awareness to support the launch and recovery of aircraft. The system records all movement of aircraft on the flight deck for training, investigation and pilot debriefings. The ILARTS system monitors and records day and night flight operations via LLL (Low Light Level) cameras placed at key locations on the carrier.
RGB Spectrum provides two components to the ILARTS control room, the QuadView® multi-image display processor and DGy® recording codec.
The QuadView multi-image processor displays up to four inputs simultaneously on a single screen from a selection of layouts. The processor receives a variety of feeds from low light cameras overlaid with key aircraft parameters presented together to better support specific activities. The processor's ability to provide multiple favorite/saved presentations from the operator thru the system PC's browser allow it to be quickly reconfigured to support a different activity.
The QuadView processor consolidates these inputs and displays them on a single monitor, providing real-time, correlated view of the action.
The QuadView UHD processor can mix and match input resolutions at up to 4K, scale any video/graphic input and route any input to any window. HDMI, DisplayPort and VGA analog inputs are supported. Likewise, the QuadView control is simple with its built-in intuitive GUI. Landing Signal Operators can choose from a variety of preset display layouts, select inputs, and route sources to the desired windows.
The ILARTS system required that the multi-window visuals displayed by the QuadView processor be recorded with visually lossless quality. RGB Spectrum's DGy recorder/codec was chosen because it offered advanced JPEG2000 encoding in a COTS product able to meet this demanding requirement. Its advanced JPEG 2000 compression records at up to 1920 x 1200 pixel resolution. A key advantage of the DGy codec is its ability to record every frame, ideally suited for frame-by-frame review during pilot debriefings and post-event analysis.
DGy codecs offer an unparalleled feature set, including time code synchronization (IRIG-B or Network Time Server), event marking, random access, variable speed playback, and its exclusive recording failsafe feature which automatically protects recordings in case of a catastrophic system failure. Event marks can be inserted both during recording and playback to provide random access to the desired points.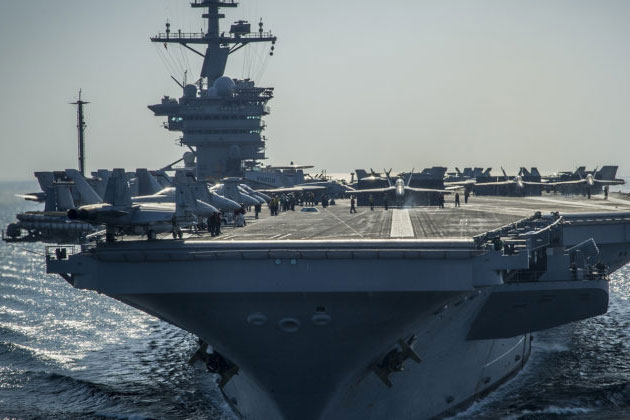 According to Ken Snuffin, Lead ILARTS Engineer, NAVAIR, "Over the last 8 years, RGB Spectrum's QuadView and DGy components have successfully supported the entire entire Nimitz Class U.S. Aircraft Carrier Fleet's ILARTS systems with superior reliability, functionality and performance."
RGB Spectrum's DGy codecs are the de facto standard for mission-critical applications, simulation, training, missile testing, and C4ISR. Other high-profile installations include P-8 Poseidon trainers, simulators for the Global Hawk/Triton UAV, F-16 and F-22 aircraft, Apache, Kiowa, Chinook, and Blackhawk helicopters, and operational deployments on the U.S. Navy AEGIS destroyer fleet, the Canada Navy frigate fleet, and the THAAD and MEADS missile defense programs.
RGB Spectrum is a leading designer and manufacturer of leading-edge audio-visual solutions for commercial, government, and military applications. The company offers integrated hardware, software, and control systems to satisfy the most demanding requirements. Its Galileo video display processor is ideal for digital signage, lobby display, conference rooms, boardrooms, emergency operations centers, security operations centers, control rooms, command centers, traffic management facilities, and network operations centers. For more information, visit www.rgb.com.