XtendPoint Control Room KVM System Now Offers Multi-Image Display Capability
RGB Spectrum's award-winning XtendPoint™ KVM-over-IP system provides distributed workflow for remote systems, across a room, a campus or even a far-flung enterprise.
XtendPoint offers the versatility to view and control systems in windows on a single display or an array of display devices. It consolidates controllable sources into a multi-window image, providing operators with a correlated view of up to four signal sources per display. It supports multi-image display in both single and dual monitor configurations, the former able to display four and the latter up to eight remote systems with a single monitor and keyboard.
Operators can sift through mountains of data, inspect multiple signal sources, and share any source viewed on their local displays. Critical information can be curated by operators at their various control stations. The result is improved situational awareness, better decision-making and faster response.
XtendPoint's KlickSimple™ navigation allows for seamless control of multiple sources simultaneously. Operators can take control of a remote system simply by moving the mouse to select a system to control.
KlickSimple navigation allows seamless control of multiple sources.
A single mouse is used to select which system to control.
Ergonomic efficiency is critical to the functioning of an operator station. It was once standard practice to have multiple display and control devices on the operator station, each addressing separate systems. But having multiple keyboards and mice creates confusion and reduces work efficiency. XtendPoint KVM offers single keyboard and mouse, providing uncluttered, more efficient operator stations.
The system delivers low latency responsiveness and exceptional 4:4:4 UHD visual performance. It encodes signal sources up to 4Kp60 resolution into low-bandwidth streams that can be efficiently distributed to multiple operator stations simultaneously.
XtendPoint KVM-over-IP supports one-to-one, one-to-many, many-to-one, or many-to-many configurations. Secure communication and control is provided for both point-to-point extension or networked operation over standard Gigabit Ethernet. Additional security can be made available through fiber optic connection. From the simple to the complex, the system addresses all of your KVM needs.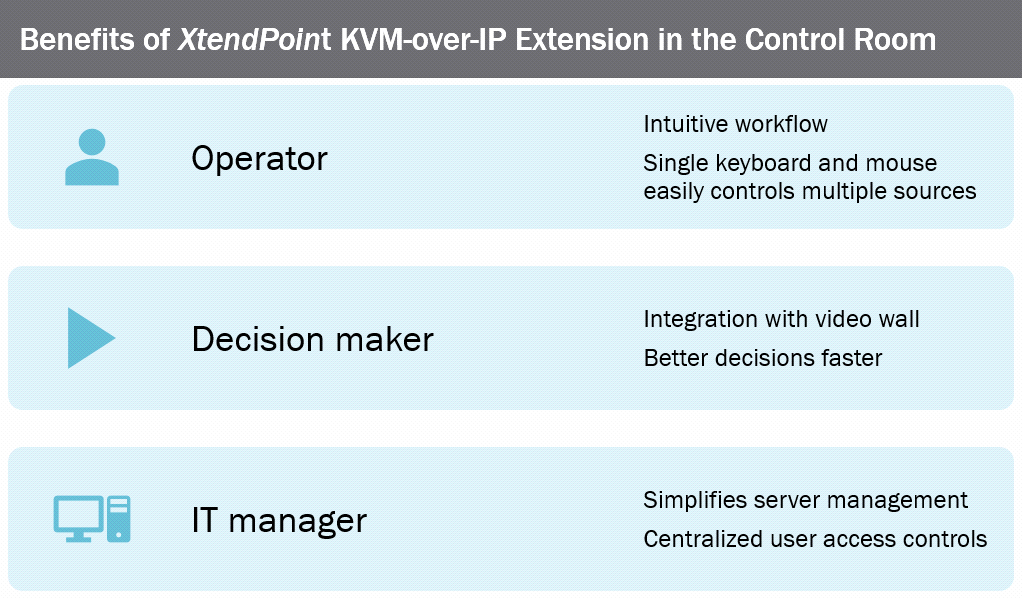 XtendPoint KVM-over-IP systems offer benefits to operators, decision makers and IT managers.
In summary, RGB Spectrum's XtendPoint KVM-over-IP systems provide a comprehensive audio-visual solution to meet the most demanding control room requirements, integrating operator stations and control of remote systems. They are an ideal solution for control rooms, dispatch centers, government, healthcare, education, airports and more.
About RGB Spectrum
RGB Spectrum is a leader in real-time visualization for decision support. Since 1987, we have powered mission-critical operations for security, infrastructure, and military deployments through the distribution, processing, and display of visual data. RGB Spectrum's innovative video solutions enhance situational awareness, expand collaboration, and drive new paths to digital transformation. Our motto: Better Decisions. Faster.™ To learn more, visit www.rgb.com.