Samsung and RGB Spectrum Collaborate to Showcase Cutting-Edge Video Wall and Multiviewer Technology
Samsung and RGB Spectrum have collaborated to showcase state-of-the-art video wall and multiviewer technology at Samsung's Executive Briefing Center (EBC) in Irvine, California. Samsung is a premier manufacturer of high-performance LED displays. The EBC highlights Samsung's industry-leading LED video wall powered by RGB Spectrum's MediaWall® V 4K video wall processor. The MediaWall V processor was chosen for its real-time performance, exceptional 4K image quality, and well-integrated operator control stations.
The solution includes Samsung's advanced IF Series modular LED displays mounted together to create a uniform canvas. The IF Series LED displays offer HDR 10+ picture refinement, optimum peak brightness and extremely accurate grayscale expression. Together, the LED displays and the MediaWall V 4K processor deliver a dazzling, true-to-life viewing experience.
The MediaWall V processor receives feeds from a variety of sources, scales them to 4K resolution, and displays them in windows of any size, anywhere on the expansive 16 feet by 9 feet LED video wall array. MediaWall V displays visuals with exceptional image clarity and no dropped frames. Operators can instantly switch input sources and choose from up to 60 customizable, preset display layouts. Integrated signal switching eliminates the need for external switchers.
MediaWall V's advanced display capabilities include window borders and titles, on-screen clocks, freeze frame, and pan and zoom to view items of particular interest.
The LED video wall also features integrated operator control using RGB Spectrum's innovative Multipoint Control Management System (MCMS), designed for collaborative work environments. It allows up to three operators to share arbitrated keyboard/mouse (KVM) control of both signal sources and the video wall processor itself. MCMS provides operators with a highly-graphical, intuitive control interface. Its live thumbnails and drag-and-drop capabilities make it easy for operators to monitor and control the system.
MediaWall V's embedded architecture provides secure operation. It resists hacking and tampering, protects against intrusion by malware, and avoids vulnerabilities that PC-based wall processor systems risk.
The solution also demonstrates multi-image display capability with KVM control of sources using RGB Spectrum's QuadView® KVM multiviewer. QuadView KVM displays up to four sources simultaneously on a single 4K screen in a variety of creative layouts. Touch-enabled routing provides fast access to any of up to seven computer sources. Users can mix and match input resolutions, scale any video input up to 4K and route any input to any window. Up to 16 layouts are provided — including quad split, full screen, triple windows, and side-by-side mode. Simply select a layout, select inputs, and route to the desired windows.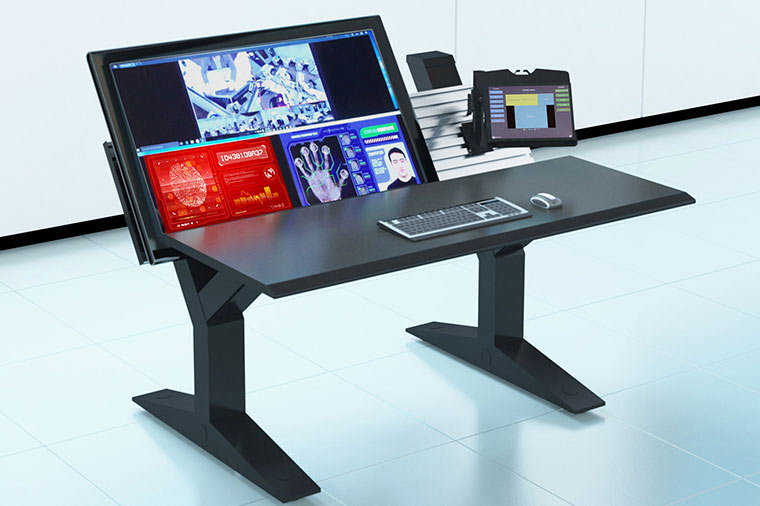 RGB Spectrum's QuadView KVM system combines a multi-image 4K video processor with remote keyboard/mouse control of connected computers.
Built-in audio switching allows users to select audio from any source — even those not currently displayed. Control methods include the front panel, a web interface, an IR remote, as well as third-party devices.
With superior image quality, 24/7 reliability, secure operation, and feature-rich capabilities, RGB Spectrum's MediaWall V and QuadView KVM processors are the ideal choice for security and emergency operations centers, control rooms, command centers, traffic management facilities, network operations centers, digital signage and lobby displays.
For more information, or to schedule a visit at Samsung's Executive Briefing Center in Irvine, California, visit samsung.com.
RGB Spectrum is a leading designer and manufacturer of mission-critical, real-time audio-visual solutions for a civilian, government, and military client base. The company offers integrated hardware, software, and control systems to satisfy the most demanding requirements. Since 1987, RGB Spectrum has been dedicated to helping our customers achieve Better Decisions. Faster™.