RGB Spectrum Receives Rave Reviews at ISE for its New IP Video Wall Processor and 4K KVM Multiviewer
RGB Spectrum highlighted its latest video processing and Video-over-IP solutions at the 2020 ISE trade show in Amsterdam, Netherlands.
RGB Spectrum offers an extensive line of video wall processors to meet any project need, with both PC and embedded architectures. The company introduced the new Zio® W4000 video wall processor series, the first full-function video wall processor completely integrated with an enterprise-class Video-over-IP video distribution platform. It is ideal for a range of applications including mission-critical operations, command centers, boardrooms, lobby displays, and digital signage.
The Zio W4000 offers a full range of input sources, including IP (H.264) and baseband (DisplayPort, HDMI, 3G/HD-SDI and 12G-SDI). With integrated Video-over-IP users are not bound by physical connections to local sources. The processor can receive, decode and display IP content from anywhere. And the processor fully supports multicast streams – unlike most other video wall processors. All video sources can be displayed any size, anywhere on the video wall.
The new processor offers the easiest-to-use video wall user interface in the industry. The intuitive GUI offers drag and drop source routing, live thumbnail previews of both baseband and Zio IP sources, single-click loading of layout presets, and a "virtual" depiction of the video wall display, which can be streamed to remote locations.
The Zio W4000 video wall processor features the easiest-to-use interface in the industry, with simple drag and drop operation and live thumbnail previews of baseband and Zio
The Zio W4000 provides many more sought-after video wall processor capabilities, including image rotation, display of web-based content, IP control of exterior devices using industry-standard Python scripting, and LDAP user authentication.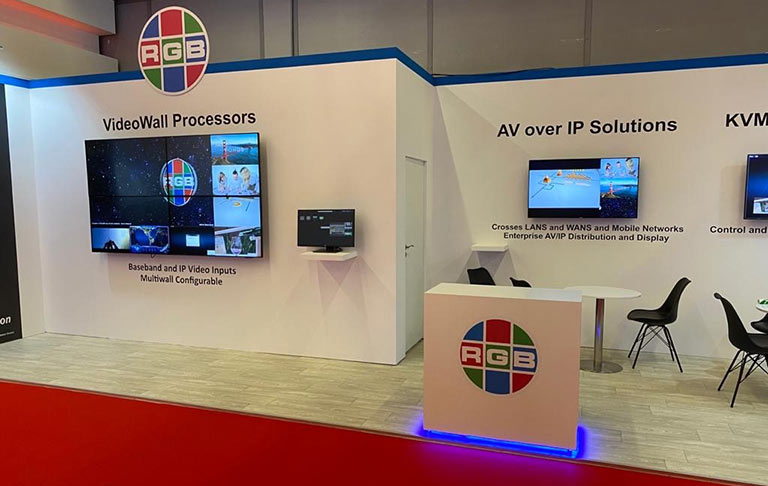 The Zio W4000 video wall processor is ideal for a range of applications including mission-critical operations, command centers, boardrooms, lobby displays, and digital signage.
The Zio W4000 can function both as a stand-alone video wall processor and an integral part of the Zio Video-over-IP platform. Zio networked video solutions encompass LANs using standard, cost-efficient 1Gb Ethernet and WANs (including mobile networks). The Zio platform offers an enterprise level Video-over-IP solution for both signal distribution and display, connecting global offices, campuses, and remote personnel.
RGB Spectrum also featured its new QuadView® UHDx KVM which combines a high-performance 4Kp60 multi-image video processor with remote keyboard/mouse control. The unit displays and controls up to four sources at a time on a single 4Kp60 monitor.
QuadView UHDx KVM's KlickSimple™ navigation greatly simplifies operator interaction by providing seamless switching of control. An operator simply drags the mouse to a window to take control of the source displayed.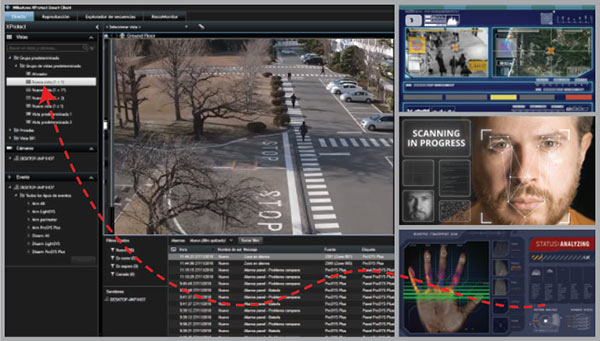 QuadView UHDx KVM displays up to four sources simultaneously on a single screen at up to 4Kp60 resolution with seamless control using a single keyboard/mouse.
The QuadView UHDx KVM provides up to full 3840 x 2160p60 4K input and output. There are six input ports, four of which can be displayed simultaneously. You can mix and match input resolutions, scale any video input up to full screen and route any input to any window. The processor offers 16 pre-set and 16 customizable display layouts. It supports analog and digital audio and lets you select and route audio from any source.
It is the ideal multi-source display and control solution for control rooms, command centers, process control stations, security operation centers, medical monitoring stations, and industrial control systems.
To find us at future events, visit our Trade Shows and Events listings, and be sure to sign up for our newsletter, The RGB Report.
RGB Spectrum is a leading designer and manufacturer of leading-edge audio-visual solutions for commercial, government, and military applications. The company offers integrated hardware, software, and control systems to satisfy the most demanding requirements. Its Galileo video display processor is ideal for digital signage, lobby display, conference rooms, boardrooms, emergency operations centers, security operations centers, control rooms, command centers, traffic management facilities, and network operations centers. For more information, visit www.rgb.com.