Galileo Processor Enhances Air Force Academy Presentations
RGB Spectrum's Galileo Display Processor is the focal point inside an architectural marvel at the U.S. Air Force Academy in Colorado Springs, Colorado. The Galileo powers a 5x6 LCD panel video wall at the Academy's newly built Center for Character and Leadership Development (CCLD), a massive meeting place for events.
The CCLD is accessible to the visiting public as well as to Academy cadets. The Academy is one of Colorado's main tourist attractions, and the new building is utilized to showcase the Academy's mission. Each cadet receives training through the CCLD program. The program is housed within a 105-foot glass tower skewed to the north to align with the North Star. The building is composed of a smooth glass skin covering an intricate structure of diagonal steel plates arranged in a triangular grid.
With the structure of the building being unique, the AV needs of the CCLD were challenging. Centrally located is a massive video wall consisting of a 5x6 array of 55" LCD panels.
The system installation was performed by LVW Electronics. The AV requirements of the facility include the ability to display up to eight DVI inputs at the same time from a group of presets. There are 32 possible sources routed through a matrix switcher, including computers with various graphics, presentations, and images, in addition to HDCP encrypted video from a DVR. Preset selection is carried out with a touch panel at the podium or in the back office.
The Galileo display processor brings superb image quality to the audience at the CCLD as well as the ability to show multiple images simultaneously arranged on the video wall. The installation has been described as the beautiful center piece of the facility. Users are highly satisfied with the technology, rating the Galileo outstanding for image quality and reliability.
About LVW Electronics Founded in 1974, LVW Electronics is a veteran-owned small business that provides advanced electronic systems to customers around the world. From their offices in Colorado Springs and Denver, as well as from field offices, LVW Electronics offers a wide range of technologies and services that include electronic security, professional and commercial audio, A/V, life safety systems, and custom-tailored control systems. This article does not imply an endorsement by the federal government or the US Air Force Academy.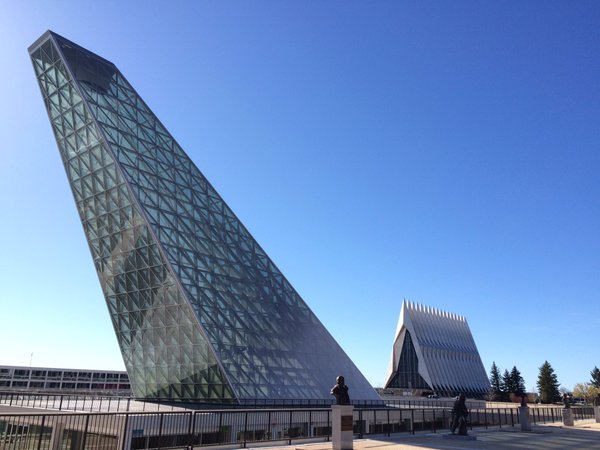 About RGB Spectrum
We design and manufacture video processing, control and display solutions for defense, aerospace, corporate, medical, government, security, education, and industrial applications. Our extensible, secure and powerful video wall processors, multiviewers and AV-over-IP systems are part of visual infrastructure around the world, but most importantly, our products empower you to make better decisions, faster.