RGB Spectrum Showcases LED Video Wall, Recording and Video-over-IP Solutions for Simulation and Training at I/ITSEC 2019
At the 2019 I/ITSEC trade show in Orlando, Florida, RGB Spectrum highlighted its latest display, recording and networked video solutions for simulators and training.
RGB Spectrum's technology is deployed in simulation and training systems worldwide. Our products are the de facto standard for mission-critical applications, simulation, training, missile testing, and C4ISR. High-profile installations include P-8 Poseidon trainers, simulators for the Global Hawk/Triton UAV, F-16 and F-22 aircraft, Apache, Kiowa, Chinook, and Blackhawk helicopters, and operational deployments on the U.S. Navy AEGIS destroyer and Littoral Combat Ship fleets, the Canada Navy frigate fleet, and the THAAD and MEADS missile defense systems.
Our products are used in each of the simulator's main components - the pilot cockpits, Instructor Operator Stations (IOS), and After-Action-Review (AAR) debriefing room as well as tie together the full simulation system.
Its advanced DGy™ recording and streaming system is used in the F-35 Full Mission Simulators which train not just individual pilots but whole squadrons in exercises. The codecs simultaneously stream and record all visuals and data the pilots observe during maneuvers, including avionics, navigation, out-the-window imagery, target acquisition, and weapons control. Streams are transmitted to the Instructor's Operator Station (IOS) so instructors can view the visuals seen by pilots during the simulation. The codecs are also used in AAR debriefing rooms to replay the simulation and assess pilots' performance.
RGB Spectrum showcased its video wall processors. Our range of processors support both IP and conventional baseband video sources.
RGB Spectrum teamed up with display manufacturer Daktronics to demonstrate the latest LED display technology for simulators and after-action-review debriefing rooms. The booth featured Daktronics 1.5mm LED video wall powered by RGB Spectrum's Galileo video wall processor.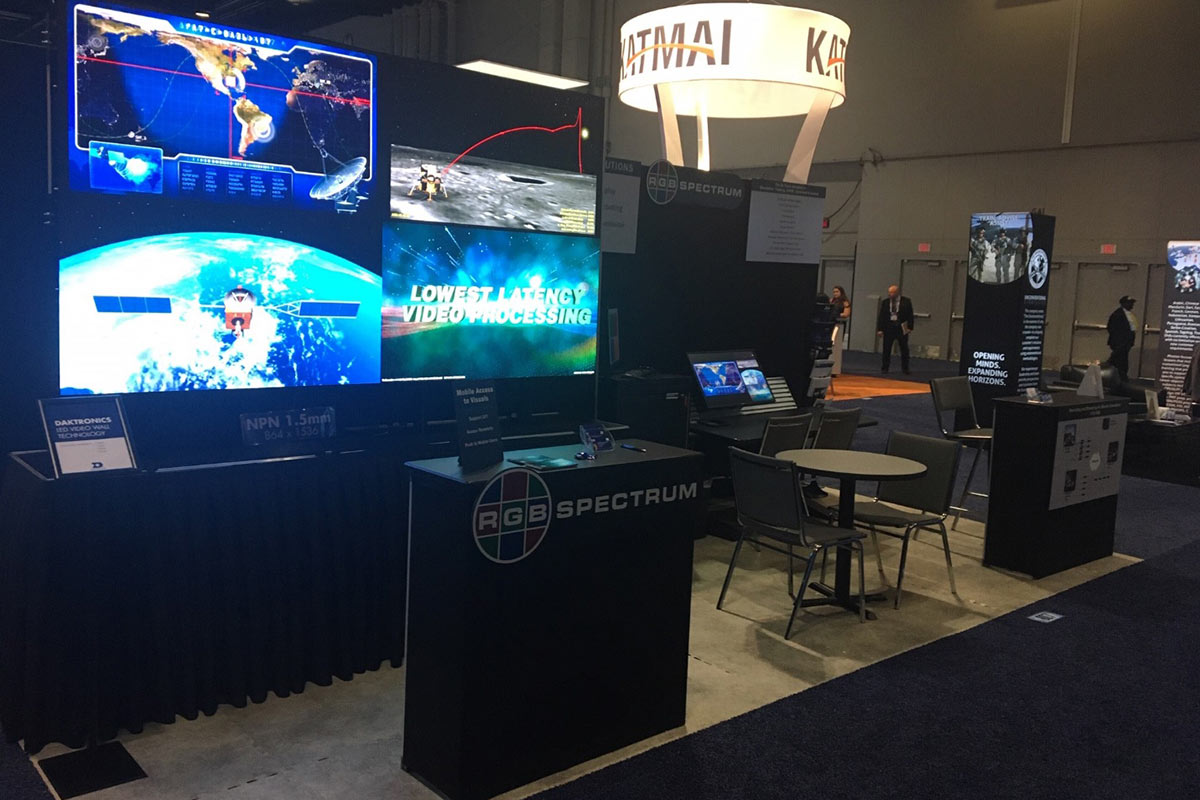 RGB Spectrum highlighted its latest video wall, recording, multi-image display and Video-over-IP technology for simulation and training at the I/ITSEC 2019 show.
The company also featured the Zio Enterprise Video-over-IP platform, a fully integrated, networked video system for LANs, WANs and mobile networks. Zio streamed ties together all the pieces of the simulator.
Daktronics is a leading manufacturer of LED display systems, offering a full line of LED video wall products with options ranging from 1.2mm to 2.5mm line spacing. Daktronics LED display systems are ideal for message displays, scoreboards, digital billboards, audio systems and control systems in sports, business and transportation applications. To learn more, visit daktronics.com.
To find us at future events, visit our Trade Shows and Events listings, and be sure to sign up for our newsletter, The RGB Report.
About RGB Spectrum
RGB Spectrum is a leader in real-time visualization for decision support. Since 1987, we have powered mission-critical operations for security, infrastructure, and military deployments through the distribution, processing, and display of visual data. RGB Spectrum's innovative video solutions enhance situational awareness, expand collaboration, and drive new paths to digital transformation. Our motto: Better Decisions. Faster.™ To learn more, visit www.rgb.com.