NBA's Detroit Pistons Ensure 24/7 Security with RGB Spectrum's Video Wall Processor
The new training center and corporate headquarters for the NBA's Detroit Pistons, the Performance Center, boasts a state-of-the-art security operations center (SOC) to assure 24/7 safety and security. The SOC provides video surveillance coverage throughout the facility and all perimeter zones.
The project was implemented by security integrator Identify Inc. with security consultant and engineering firm Ross & Baruzzini | DVS, specifying RGB Spectrum's MediaWall® V processor for its real-time performance, exceptional 4K image quality, and well-integrated operator control stations.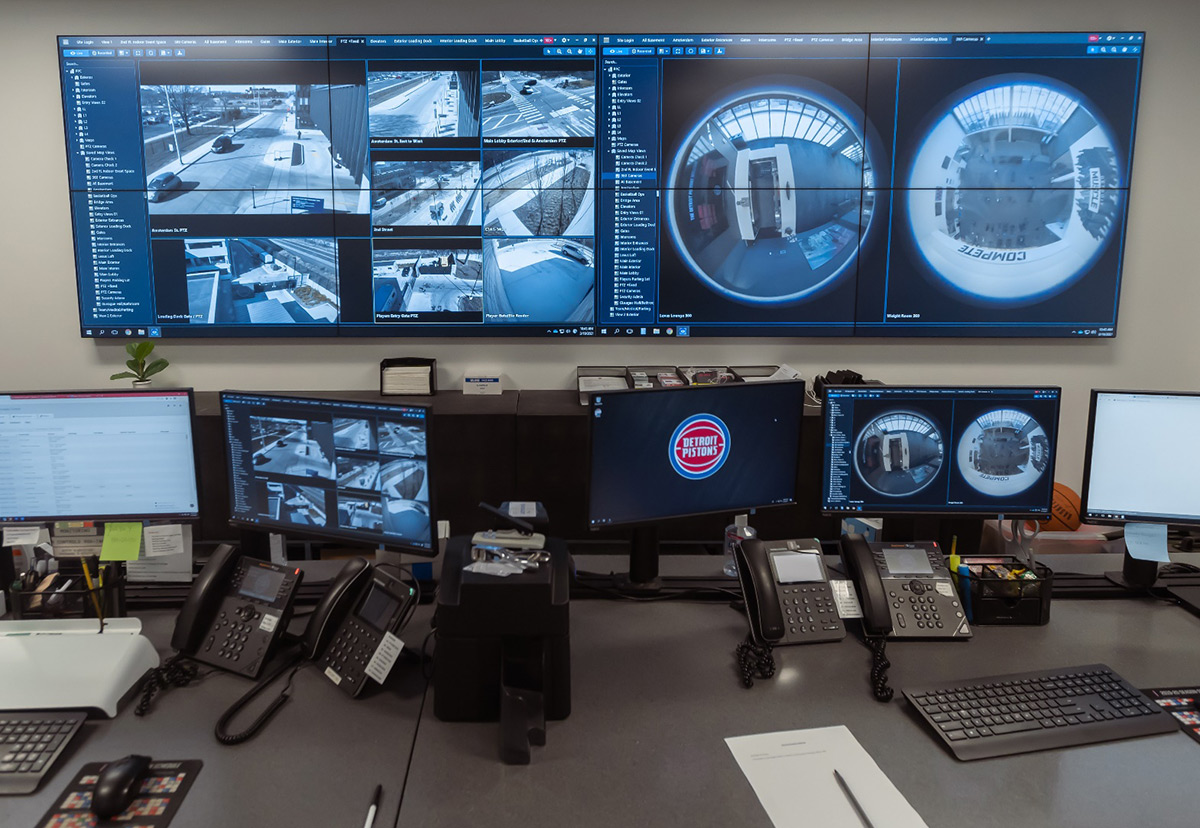 The MediaWall V processor receives inputs from access control systems, IP surveillance cameras, a Video Management System (VMS), HDTV feeds, an intrusion detection system, and multiple computers. The processor consolidates these various sources and displays them in windows of any size, anywhere on an expansive 2 x 4 video wall. Operators can instantly switch input sources and choose from up to 60 customizable, preset display layouts. They can also pan and zoom to view items of particular interest.
The result is that critical visuals and data are centralized in a correlated view to enhance situational awareness, incident assessment, and threat analysis.
A state-of-the art system, the MediaWall V provides secure, reliable 24/7 operation. Its embedded architecture resists hacking and tampering, protects against intrusion by malware, and avoids the vulnerabilities that PC-based wall processor systems risk.
For operator control, the SOC utilizes RGB Spectrum's MultiPoint® Express (MCMS), an innovative control room management system designed for collaborative work environments. Three MCMS control stations allow operators to share and control the VMS, surveillance cameras, access control system and all other functions using its unified keyboard/mouse (KVM) system. MCMS provides operators with a highly graphical and intuitive control interface featuring live thumbnails and drag-and-drop capabilities.
To extend the multi-image visuals from the MediaWall V processor to the large video wall, Identify installed RGB Spectrum's CAT-Linx™ 2 HDBaseT extenders. These transmit signals of up to 4K resolution over conventional CAT 5e/6 cable to a length of 330 feet. For installation ease and convenience, power is supplied to the units over the same CAT5e/6 cable that carries video and data.
With superior 4K image quality, 24/7 reliability, secure operation, and feature-rich capabilities, RGB Spectrum's MediaWall V video wall processor is the ideal choice for security operations centers, control rooms, command centers, traffic management facilities, network operations centers, emergency operations centers, digital signage and lobby displays.
The 185,000 square-foot Detroit Pistons Performance Center is the largest of its kind in the NBA. For more information on the facility, visit theplatform.city/pistons-performance-center.
Identify Inc. is a security integrator of innovative security solutions headquartered in Madison Heights, Michigan. Identify provides security systems design, consulting and installation, with specialization in IP digital video systems, interactive video monitoring, access control systems, intrusion systems, and monitoring center services. For more information, call 866-863-9311 or visit chooseid.com.
About RGB Spectrum
We design and manufacture video processing, control and display solutions for defense, aerospace, corporate, medical, government, security, education, and industrial applications. Our extensible, secure and powerful video wall processors, multiviewers and AV-over-IP systems are part of visual infrastructure around the world, but most importantly, our products empower you to make better decisions, faster.